As a mother, you've dreamed of this time since she was born. As the happy bride, you've probably thought about this a time or two 😂. First, CONGRATULATIONS! You've found the person you want to spend the rest of your life with. Now the work begins. There's the venue, the coordinator, the photographer, the dress .. the list goes on and on. We can't address all your bridal needs, however, we can add real value by addressing your intimates and gift needs.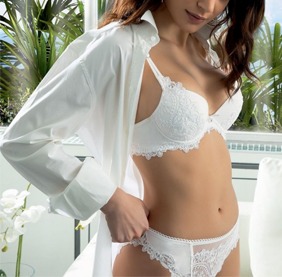 Wedding dress undergarments. Schedule a "pre-dress shopping" intimate review. Bras, bustiers, and bra accessories can do miraculous things to make a dress look stunning on your special day. However, depending on your unique body, there may be some limitations to the miracles. Being armed with information on what can work best for you will make the dress shopping experience even more enjoyable.
Bridal Shower and Bridal Registry. We'd love to serve as your bridal shower venue. It doesn't matter where you live, Carmel, IN is a fabulous place to visit and The Hotel Carmichael is just steps away from our shop. Special parties like this are scheduled at the shop after hours. We'll help you create the perfect event while the bride and guests all experience a professional bra fitting. We maintain a bridal registry with sizing and preference information for anyone who would like to purchase gifts for the bride and groom.
Specialty Items, Bridesmaids, Groomsmen, and Gifts. We also make it easy to check off a couple of "to-do" items such as wedding garters, Bridesmaids gifts, and groomsmen gifts right here. Consider a signature scent for your special day with candles and essential oil fragrances by House of Blair Style. We have numerous options for Bridesmaid's gifts including matching robes, sleepwear, and underwear. For the men, we have Saxx Underwear (truly life-changing underwear). It's designed utilizing the patented ballpark pouch technology. We've had numerous grooms tell us that SAXX underwear was the best gift for the groomsmen. We also have SAXX running shorts, swim trunks, workout wear, and loungewear that are exceptional and well-loved gifts. They too have the same ballpark pouch technology.
The Honeymoon. Depending on your honeymoon destination, you'll want to consider robes, sleepwear, bra and panty sets, shapewear, swimwear, cover-ups, etc. You're off on a new adventure. We'll help ensure you have everything you need for the wedding, honeymoon, and beyond.
Mother of the Bride/Groom and Bridal Party. Let's face it; without our mothers, none of this would be happening. It's a special day for them too. And cheers to our girlfriends sharing this journey. Bras, panties, shapewear, bustiers – all could play a significant part in everyone looking and feeling their very best.
As a gift and aid for you brides, we've created a Free Brides Intimate Check List. Click here to download this special tool. It's one less thing to keep in your head and something easy to keep your intimates and gifts on track for the big day!
Congratulations on your upcoming wedding! We look forward to serving you during this wonderfully happy season in your life. Call us at 317-853-6007 or email us . You can also schedule your time here online.
Until we meet again, behind the curtain!
Carla