Uplift Intimate Apparel Nominated for 2018 Best of Intima North America!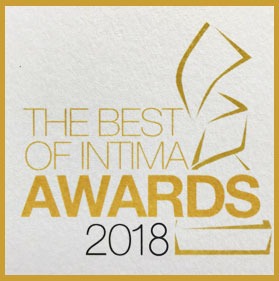 In late April, we received word that Uplift Intimate Apparel is a Nominee for the 2018 Best Retail Award by Intima Magazine, the global premiere industry magazine. Since 2004, this unique recognition is given to the best performing lingerie specialty stores in North America by a professional jury composed of both domestic and international famous lingerie brands.
The Best of Intima Awards recognizes the achievements of independent lingerie retailers from the United States and Canada, honoring best practices within the intimate apparel, beachwear and loungewear retail industry. Shops are nominated for a variety of reasons, such as product knowledge, fitting expertise, customer service, and unique sales abilities.
"To be nominated is a tremendous honor for anyone; and, to be included in our first year of business is an exciting and humbling nod to our creativity and commitment to the industry" says Carla Mackie, owner of Uplift. "Working in the intimate apparel industry for 13 years, I have enjoyed these past 18 months being a business owner. Uplift Intimate Apparel is the melding of all I've learned in the industry. It is the vehicle that allows me to serve women (and men) in a meaningful way," says Carla. This nomination puts Uplift and Carmel, Indiana on the world intimate apparel map. Globally recognized best practices and products are available to woman right here in their local area.
We have not yet heard if we are a finalist for any of the awards, but have been invited to the Best of Intima Awards Ceremony. This invitation only event is held in New York City on July 29, 2018 during the Curve New York Intimate Apparel Industry Show. "For us, we've already won just by being nominated."
---
UPCOMING EVENTS
Lift & Luxuriate! Stress Free Fittings
Friday, July 20, 2018
11AM – 2PM
We're so excited to have Emily Laugle of Indy North Massage Therapy with us on Friday, July 20, 2018 from 11AM to 2PM. She'll be doing 10 minute chair massages as a blissful escape. Just add a professional bra fitting and you've got Lift & Luxuriate! Call 317-853-6007 to schedule your massage and fitting. Find Out More Here
---
---
Other News