2023
We are so thrilled to be nominated for the Best of Intima Awards to be held in NYC in August! We love what we do and it's so great to be part of this industry. Thank you!
---
Here We Go Again
April 10 for approximately 3 months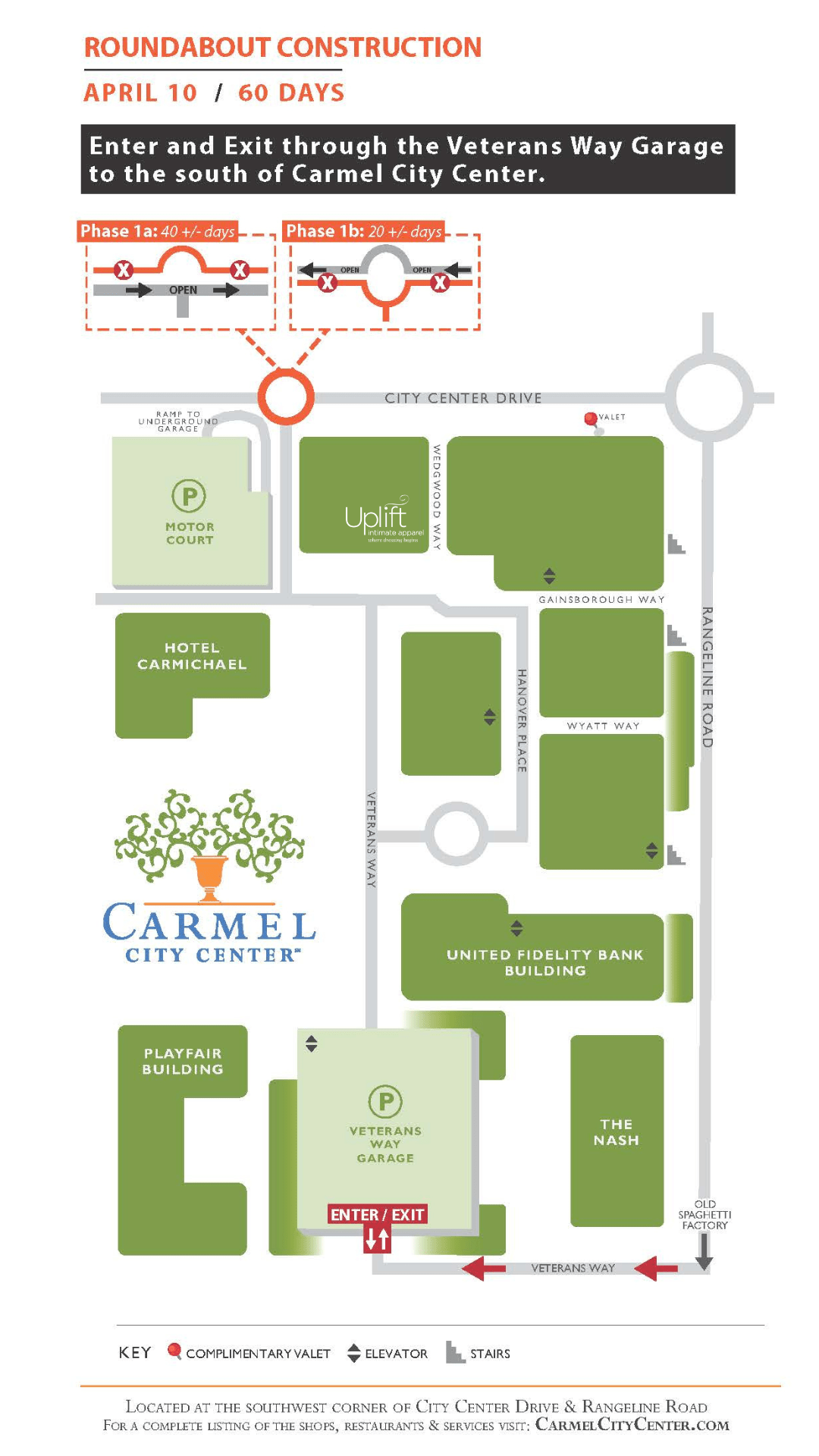 The City of Carmel, Indiana Government is adding a roundabout at the City Center Drive entrance into Carmel City Center. See the map on how to navigate this construction and enter from Veterans Way at the Veterans Way Parking Garage. This is scheduled to be a 3-month construction project.
---
Fighting Substance Use Disorder
April 26 | 6 -7 pm
Think Substance Use Disorder and/or Mental Health Disease doesn't impact you? Think again.
Last year in the United States, there were over 38 million people living with Substance Use Disorder, 52 million living with mental health disease and 17 million were living with both. Unfortunately, it is still a highly isolating and stigmatizing disease. Wendy Noe, CEO of Dove Recovery House for Women is coming to Uplift Intimate Apparel to provide education and a deeper understanding of Substance Use Disorder, and its gateway drug trauma while discussing the barriers to care and what we as a community can do to help our loved ones and neighbors.
---
2022
Holiday Sip & Shop
Nov 5 | 2 -6 pm
Join us on Saturday, for Carmel City Center's Holiday Sip & Shop. Complimentary wine tastings and Peppermint White Russians will be available at various shops. Enter to win a $50 gift card during the event and shop from select items at 50% off to include:
Fall Panty Sale .. Buy 2 and choose 1 (of equal or lesser value) free.
Sleep bras are now 50% off.
Last call on select in-stock bra styles (and some have panties to match at 50% off).
Select in-stock Saxx for men's styles at 50% off.
Let the holidays begin!
---
The Power of Emotional Wellness
Oct 26 | 6 – 7:30 pm
Presented by Deb Brandt of Watershed Moments Coaching
When we really look at all the pieces of our lives, very few of us can say we'd find peace. With so many moving parts and responsibilities each day, it's important to step back and take a good look at our ability to successfully process feelings in a healthy, positive way and manage the stress of everyday life; our Emotional Wellness.
Join us at Uplift Intimate Apparel for a workshop on Emotional Wellness. Deb Brandt, MA, founder of Watershed Moments Coaching, brings a wealth of experience, tools, and resources to help meld together the life you have and the life you want. It all starts with your emotional wellness.
---
SIP + SHOP
June 4 | from 12 – 3 p.m.
Complimentary white wine tastings and a specialty cocktail will be available at several shops with special promotions during the event throughout the center. At Uplift, any in-stock purchases enters you into the drawing to win a $50 gift card and receive a gift with purchase during the event.
---
Birthday Celebration
May 3 – 7 | 10am – 6pm
On May 3, 2017, Uplift Intimate Apparel was born. Now, five years later we're celebrating her fifth birthday! This little store and the women who come, from all over, are one of the greatest loves of my life (and all of our Saxx men too). Starting tomorrow we're having a daily drawing (through Saturday, May 7th) for a $50 Uplift gift card (your in-stock purchase enters you into the drawing). Plus we have a variety of special promotions:
• Select in-stock Anita panties for the ladies (buy 6, get the 7th free)
• A grab bag of size Medium Saxx underwear in stock for men (buy 6, get the 7th free)
• Gifts from us to you.
Thank you for FIVE AMAZING years. The best is yet to come!
2021
Holiday Preview Shopping Event
Nov 6 | 2 – 6pm
Receive 20% off selected in-stock sleepwear during the event at Uplift. Plus enjoy complimentary wine tastings and Peppermint White Russians at various Carmel City Center Shops.
Sip & Shop
Aug 7 | 11 am-3pm
Enjoy complimentary libations at a variety of stores along with sales and special promotions.
We're supporting Dove Recovery House for Women. Please consider donating much-needed supplies to include:
• Panties (bikini, boy short or brief style)
• Socks
• Feminine products
• Liquid soap
• Shampoo and Conditioner
• Toilet Paper and Paper Towels
• Bath Towels and Wash Cloths
Bring any of these items to Uplift Intimate Apparel and we'll make sure they get to Dove or you can order and have it shipped directly to Dove House with this Amazon link
Sip & Shop
June 5 | 11 am-2 pm
White wine and blueberry basil lemonade will be served in several shops. Plus enter to win the opportunity for one of three $75 gift certificates.
Sip & Shop
May 1 | 11 am-2 pm
Several stores will be offering complimentary white wine and strawberry basil lemonade cocktails and special promotional drawings. We're drawing for a $50 Uplift Gift Card. Forever Gallery, Nine + Roxy, and shop14districts also are having special drawings. Come enjoy spring with us!
Be A Sweetheart Food Drive
Feb 15
At Uplift Intimate Apparel and other select business in Carmel City Center. Be a "Sweetheart" by bringing in unopened, non-perishable food items to support the Gleaners Food Bank of Indiana Inc.
2020
---
Sip + Shop Late & Holiday Toy Drive
Dec 4  | 5-9 PM
We are super excited to co-host the Sip + Shop Late Event! Stop by and donate a new unwrapped toy and receive a $5 Uplift Intimate Apparel store credit. Then head on over for complimentary white wine tastings, peppermint white Russians, and apple cider sangria at Forever Gallery Tattoo, Linden Tree Gifts, Nine + Roxy, and Out of the Blue Polish Pottery.
Other participating shops will have special holiday promotions during the event:
Linden Tree Gifts: Buy one get one free on all socks, while supplies last.
(Addendum: Receive a special gift with a qualifying Juliska purchase. Receive a free MacKenzie-Childs Nutcracker when you spend $200 or more on MacKenzie-Childs. In addition, all remaining MacKenzie-Childs Halloween and Thanksgiving items will be 50% off.)
Kits & Kaboodle Classic Toys: Receive a complimentary light up necklace with every purchase. Choose from red, green, or blue. Now-December 21st donate a new, unwrapped toy and if their toy box is full, Kits & Kaboodle will donate 10 new puzzles for teenagers.
Endeavor Boutique: Enjoy 20% off during the event. Now-December 21st donate a new, unwrapped toy and receive 20% off.
Bath Junkie: Receive a free hand sanitizer with any purchase.
Out of the Blue Polish Pottery & Gifts: Enter to win a Christmas baking set that includes 2 small bakers and an engraved rolling pin. Now-December 21st donate a new, unwrapped toy and receive a coupon for 10% off to be used in January.
Lantz Collective: Shop the Red Tag Sale of items that are 50% off. Now-December 21st donate a new, unwrapped toy and Lantz Collective will match it.
Nine + Roxy: Now-December 21st donate a new, unwrapped toy and get $5 off your purchase of $40 or more.
Oliver's Twist: Now-December 21st donate a new, unwrapped toy and receive 50% off an in-stock item.
In addition, visitors can enter to win a $75 gift certificate at Bath Junkie, Endeavor Boutique and Lily & Sparrow Boutique when they visit those shops.
Visitors are also encouraged to bring a new, unwrapped toy to select businesses for the Jingle for Joy Holiday Toy Drive by local nonprofit, Give First Indy, benefiting the Peyton Manning Children's Hospital at Ascension St. Vincent. Participating toy drive drop off locations are 14 Districts Weekend, Addendum, Be.You.tiful NAILS, Beauty + Grace, The Cake Bake Shop, Endeavor Boutique, Fishman Fine Jewelers, Hotel Carmichael, InCycle, J.Benzal Menswear, Kits & Kaboodle Classic Toys, Lantz Collective, Lily & Sparrow Boutique, Linden Tree Gifts, Nine + Roxy, Oliver's Twist, Out of the Blue Polish Pottery, United Fidelity Bank and Uplift Intimate Apparel. Toys can be dropped off from now through December 21st.
---

In celebration of Women's History Month
We LOVE programs designed to truly help and inspire women! So, when we heard about The Book Fairies Event designed by Indiana Divorce Lawyers, Pastrana LLC and partners Clare Corado and Megan Pastrana, we were all in. Everyone involved with this great initiative is always looking for ways to inspire and empower women. Want to know more about this? Check out RTV6  WRTV Indianapolis's story. If you find a book with a pink ribbon around it, look for the special note. It's for you to take, read, share and pass it on.
You never know where you might find these pink ribbon wrapped words of inspiration. We're thrilled to be part of #nextchapterindiana!
---
Cosabella Spring & Summer 2020 Trunk Show
March 4 |  11 AM – 3 PM
We're so excited to host the Cosabella Spring/Summer 2020 Trunk Show on March 4, 2020 from 11am to 3pm. Jennifer will be with us with all the beautiful Italian designs and lace. Plus, each purchase registers you for the drawing of a bra and panty set from Cosabella.
---

RESCHEDULED-


Lise Charmel "Summer Designs" Trunk Show
February 13 |  4 – 6 PM 

March 12 | 4-6 PM




Our Lise Charmel "Summer Designs" Trunk Show is rescheduled for Thursday, March 12, 2020. Due to torrential rains in Atlanta, GA, Caroline can't get out to come to Carmel Indiana for our trunk show today. However, we'd still love to see you and show you what we do have in-stock ????

 
---

Shop for Show Tickets with us!
Now through March 13th
Spend $50+ on any in-stock items at Uplift and get two complimentary vouchers for tickets to Journey Into Jazz. (4 per customer) Experience the Award-winning bassist and composer, Edgar Meyer as he joins the Carmel Symphony Orchestra on the Palladium stage for a Journey Into Jazz. Meyer is hailed as "the most remarkable virtuoso in the … history of his instrument," says the New Yorker.
---

Harnessing the Power of Motivation in Investing
March 18 |  6:30 – 8 PM
Space is limited so please reserve your spot.
Fact: Men and women are motivated differently.  — Fact: Women's motivations are powerful in the world of investing.
This seminar with Don Phelan will provide insights into the special attributes that a woman's motivation brings to investing and how to harness that potential for your own dreams.
Discussions will include:
Why women ARE great investors.
Understanding your personality to compliment your investment endeavors.
Important investment concepts for women.
Don is a seasoned Financial Advisor with The Williamson Legacy Group of Wells Fargo Advisors. His passion is building, managing, protecting and transitioning the wealth of families.
---
Bridal Sip & Shop
March 28th | 1 – 4PM
Brides and other interested parties are invited to stop by and enjoy complimentary white wine sangria, Champagne fizz cocktail and red wine at
Uplift Intimate Apparel
and other participating businesses, one free professional photo, pop-up shops and tours of the new Hotel Carmichael and the Cake Bake Shop's private bridal shower and rehearsal dinner spaces.
Join all of us here at Carmel City Center, a fantastic wedding destination with multiple businesses that offer bridal and wedding services such as bridal registries, fine jewelry, gowns, lingerie, luxury wedding invitations, rehearsal dinner options, wedding photography and more!
---
Keeping Retail Legal
April 15 |  9 – 10:30 AM
Join attorney Katie Charleston to discuss privacy laws, brand protection and company policies as they relate to retail.
---