Depending on where you look, Intimates are simply defined as women's underwear and nightclothes. Here at Uplift, we expand that definition to include anything that touches the skin. Think:
• Bras/bralettes
• Panties
• Shapewear
• Sleepwear
• Robes
• Swimwear
• Cover-ups
• Bodysuits
• Layering Tanks
• Work out / Exercise wear
The question is what will your intimate wardrobe look like? The options are limitless, and here are a few tips to consider for each of these items.
BRAS
They must fit extremely well and everyone should have a professional bra fitting annually or with any 10lb weight change. The same bra should not be worn every day. The elastic needs a day to go back to its original shape.
Bras should be washed at least every second wearing depending on how much you sweat. Be honest, if you sweat, it's dirty and should be washed. We have a whole instruction sheet on the care of your intimates. Download or see it here.
Never, ever, NEVER put your bras in the dryer.
Wear dictates how long your bra will last. Your "go-to" bra, the one you wear multiple days each week, will need to be replaced every 6-9 months.
We recommend that you have at least 3 "go-to" bras that you rotate on a weekly basis. This adds life and longevity to all of those bras.
PANTIES
Like bras, panties need to be comfortable. Otherwise, you'll be tugging and digging at them all the time (and more than you are aware).
Style, design, and fabric are personal preferences and support what you are wearing (ex: no panty line or "camel toe").
No matter your preference, for hygiene purposes, make sure there is a cotton crotch in your panties.
This goes without saying, however panties should be washed after every wear with lingerie detergent in a mesh laundry bag.
We recommend air-drying silk and lace panties. And if you want panties to last longer air dry all fabrics.
SHAPEWEAR
No matter how slim you may be, shapewear is what enables a smooth and finished look in your clothes
Like bras, shapewear should be washed at least every second wearing depending on how much you sweat. Again, be honest.
Choose the pieces that accomplish what you are trying to achieve. For example, if you're trying to slim your waist and tummy and have no problems with your hips and thighs, select shapewear that supports only those areas that need a little help.
It's ok to size up in order to breath.
Never, ever, NEVER put your shapewear in the dryer.
SLEEPWEAR
Sleeping in a t-shirt or sweatshirt is fine when you are 12 or 22.
The fabrics of sleepwear are designed for comfort and temperature control.
Design is strictly your taste and preference. There is no right or wrong in choosing sleepwear.
We are huge proponents of wearing a soft and squishy sleep mask. You don't know what you're missing until you try it.
ROBES
Your fabric preference is key with robes. Do you prefer plush spa robes? Or are you more of a silk girl? The options and fabrics are plentiful. Choose what you love.
Having a second "travel" robe can make your trips as comfortable as home.
BTW, wearing a robe while you're getting your makeup on and doing your hair saves time brushing off your clothes (stray hair, powder, etc.)
SWIMWEAR
A bathing suit should be like your favorite LBD (Little Black Dress) – ridiculously comfortable, fits you perfectly and can take you anywhere you need to go.
A swimsuit must comfortably contain "the girls", camouflage any "sensitive" areas and allow freedom of movement in all activities.
When you're wearing a bathing suit that is made well and fits well, you'll find a whole new level of comfort and confidence.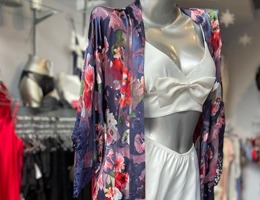 COVERUPS
These wardrobe workhorses aren't just for the pool or beach anymore. Use them as a pool cover-up by day and as part of your evening wear at night. They are a great way to change up the look of your favorite outfit.
Because cover-ups are light weight, they are a great piece to have when traveling to extend your wardrobe options without adding "more" to your luggage.
BODYSUITS
A bodysuit serves as a bra and a top all in one.
Different than a top, a bodysuit can be the ultimate "reveal or conceal" piece of your wardrobe. It's a statement piece.
Bodysuits can be dressed up or dressed down.
Incorporating lace and intricate design, many bodysuits are something to make you feel beautiful, bold, and empowered.
Bodysuits are also a great piece to have when traveling to extend your wardrobe options without adding "more" to your luggage.
Layering Tanks. Another wardrobe workhorse is the layering tank. Made from silk, cotton, or a blend, these versatile pieces add a pop of color and warmth when needed.
WORKOUT / EXERCISE WEAR
Work out wear is specifically designed to support your body while exercising.
The fabric of workout wear is often a wicking fabric pulling moisture away from your body allowing you to cool and be comfortable.
Sports bras are made specifically to support your breasts minimizing or eliminating bounce. This is essential to the health of your breast tissue, shoulders, back, and neck.
Choose exercise clothes that are comfortable on your body, but also designed to support you.
There is joy and freedom in finding the bra that fits like a sweet hug; panties that make you feel beautiful; sleepwear that is all grown up. All of this is for you and how it makes you feel in your soul. You are beautiful with all your curves and perceived imperfections. Find the lingerie that speaks to you and embraces the beauty you are.
Until we meet again – behind the curtain. Carla