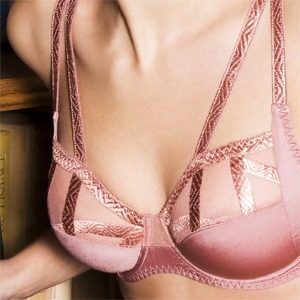 Your bra is one of three key components of your intimate wardrobe and it's a workhorse. Its purpose is to support your breasts. The right bra can alleviate back and neck pain, headaches, TMJ symptoms, etc. And it does all that work while being beautiful and building your inner confidence. A true gem. But how to get the right bra for you requires help from a professional bra fitter. Here at Uplift Intimate Apparel, we take you and your needs very seriously. You are why we exist. So to help you better understand what is happening, we've identified the things you can expect during your professional bra fitting with us.
First, make an appointment. Time permitting, we can fit you without an appointment, but having one allows us to plan accordingly for your visit and for us to focus on you while you're with us.
When you arrive, feel free to look at what we have in the store. But don't be alarmed when you don't see very many bras. What we have in the front of the shop is a sampling of what is available. Everything is stored in the back.
When you're ready, we'll take you back to one of our comfortable and spacious dressing rooms. We'll talk about your likes and dislikes and we'll take your chest and breast measurements with your bra on.
To this point, it's all been pretty straightforward. Now the fun begins. Your professional fitter will bring you a variety of styles of bras to try on, working towards the perfect fit. We ask our guests to disregard what you "think" the sizing means. Our bras are sized under European sizing guides because most of our products are from various European countries. We'd like you to think of bra sizing as nothing more than a number for us to use in storing our products. Different styles will have different shapes. Even color can impact fit and feel.
You will know when you've found your new favorite bra. We've seen tens of thousands of women light up like a Christmas tree when they put on the bra that is fit just for them.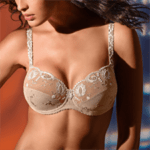 You are never under any obligation to buy anything. Your professional fitting is provided as a complimentary service because we feel it is so important for every woman. It's our gift to you. We keep a record of your sizing and preferences along with your wish list so you are able to pick up right where you left off for your next visit. It's also a real help for someone special to purchase gifts based on what you've already identified as something you'll love.
This is a special time for you and please know that we respect you and your privacy. You have nothing to worry about as we're here to make this a special – and educational – time.